President Muhammadu Buhari on Monday told Governor Adams Oshiomhole, Governor-elect, Godwin Obaseki and others delegates in Benin City that he spent 40 months in detention in the state during the 1985 military coup.
President Buhari, who was on two days working visit to Edo state will used the opporutnity to launch projects completed by the Governor Adams Oshiomhole-led administration.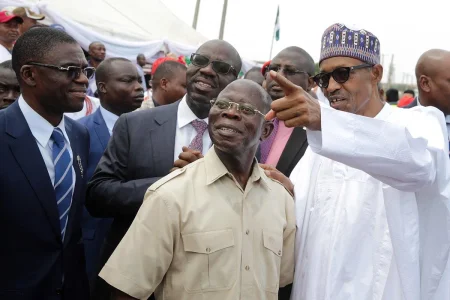 "I'm glad to be visiting Edo State, to commission Infrastructure projects completed by the administration of Gov Adams Oshiomhole".
"Not many people may remember: I spent most of the 40 months of my detention, following the 1985 coup, in a small bungalow here in Benin City", the president said.
THINK YOUR FRIEND WOULD BE INTRESTED? SHARE THIS STORY USING ANY OF THE SHARE BUTTON BELOW ⬇
PLACE YOUR TEXT ADVERT BELOW:>>>>>>>>>>>>>>>>>>>>>>>>>>>>>>>>>>>>>>>>
SHARE YOUR STORY WITH US VIA EMAIL: INFO@247NIGERIANEWSUPDATE.CO RECEIVE NEWS VIA OUR WHATSAPP, KINDLY TEXT +234 701 056 0394 TO ADD YOU
CLICK HERE TO JOIN US ON OUR YOUTUBE CHANNEL FOR NEWS UPDATE
CLICK HERE TO JOIN US ON TWITTER FOR INSTANT NEWS UPDATE: @247NGNEWSUPDATE
CLICK HERE TO JOIN MILLIONS AROUND THE GLOBE TO READ NEWS ON OUR FACEBOOK FAN PAGE
FOR INSTANT UPDATES ON INSTAGRAM CLICK HERE
RECEIVE INSTANT NEWS UPDATE VIA OUR BBM BROADCAST: D3EDEFDF