President Muhammadu Buhari had on January 30, 2016 in Addis Ababa, Ethiopia, said ongoing fight against corruption in Nigeria could be effectively tackled with the strong support of the judiciary.
President's Special Adviser on Media and Publicity, Femi Adesina, said Mr. Buhari stated this while speaking at a town hall meeting with Nigerians living in Ethiopia.
"On the fight against corruption vis-à-vis the judiciary, Nigerians will be right to say that is my main HEADACHE for now".
Over the weekend, the DSS raided the homes of seven judges in different states across the country over alleged corrupt practices.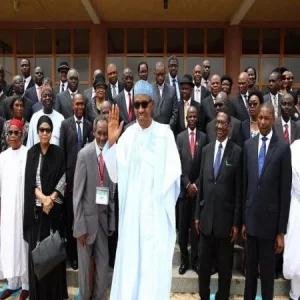 The seven senior judges arrested were still in custody and would be arraigned in court any moment.
The act which is geenrating tension and intense discussion within the political space forced the presdiency tomake an official reaction on Sunday, saying the arrest of seven senior judges by the State Security Service, SSS, was an assault on corruption and not on the judiciary.
The president in a statement by his media adviser, Garba Shehu, described the raids as 'surgical' saying due process was followed in the arrests.
THINK YOUR FRIEND WOULD BE INTRESTED? SHARE THIS STORY USING ANY OF THE SHARE BUTTON BELOW ⬇
PLACE YOUR TEXT ADVERT BELOW:>>>>>>>>>>>>>>>>>>>>>>>>>>>>>>>>>>>>>>>>
SHARE YOUR STORY WITH US VIA EMAIL: INFO@247NIGERIANEWSUPDATE.CO RECEIVE NEWS VIA OUR WHATSAPP, KINDLY TEXT +234 701 056 0394 TO ADD YOU
CLICK HERE TO JOIN US ON OUR YOUTUBE CHANNEL FOR NEWS UPDATE
CLICK HERE TO JOIN US ON TWITTER FOR INSTANT NEWS UPDATE: @247NGNEWSUPDATE
CLICK HERE TO JOIN MILLIONS AROUND THE GLOBE TO READ NEWS ON OUR FACEBOOK FAN PAGE
FOR INSTANT UPDATES ON INSTAGRAM CLICK HERE
RECEIVE INSTANT NEWS UPDATE VIA OUR BBM BROADCAST: D3EDEFDF