A Boko Haram commander said the release of the first batch of Chibok girls involved a prisoner swap of detained Boko Haram militants, Sahara Reporters report.
Sahara Reporters, the online medium who was among the first to break the news cannot be ascertain the number and names of Boko haram militants used in the swap deal.
Meanwhile, the Nigeria government also confirmed the release of the 21 of the Chibok schoolgirls kidnapped by Boko Haram militants but yet to give details about the release formality.
Garba Shehu, Buhari's senior aide only quoted DSS DG, Daura as saying that the girl are tired and needs some rest.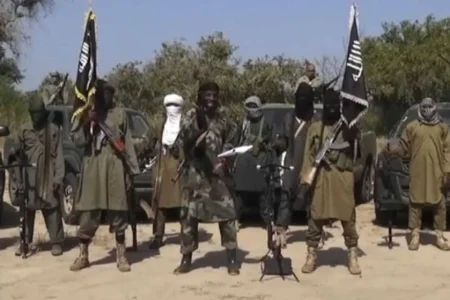 The DSS Boss, Malam Lawal Daura also wants the girls to have some rest, with all of them very tired coming out of the process before he hands them over to the Vice president, Yemi Osinbajo
The President welcomed the release of the girls but cautioned Nigerians to be mindful of the fact that more than 30,000 fellow citizens were killed via terrorism.
SHARE THIS STORY USING ANY OF THE BUTTON BELOW ⬇
PLACE YOUR TEXT ADVERT BELOW ⬇⬇⬇
SHARE YOUR STORY WITH US VIA EMAIL: INFO@247NIGERIANEWSUPDATE.CO RECEIVE NEWS VIA OUR WHATSAPP, KINDLY TEXT +234 701 056 0394 TO ADD YOU
CLICK HERE TO JOIN US ON OUR YOUTUBE CHANNEL FOR NEWS UPDATE
CLICK HERE TO JOIN US ON TWITTER FOR INSTANT NEWS UPDATE: @247NGNEWSUPDATE
CLICK HERE TO JOIN MILLIONS AROUND THE GLOBE TO READ NEWS ON OUR FACEBOOK FAN PAGE
FOR INSTANT UPDATES ON INSTAGRAM CLICK HERE
RECEIVE INSTANT NEWS UPDATE VIA OUR BBM BROADCAST: D3EDEFDF