President Muhammadu Buhari is ready to put everything on the line to make sure Nigeria is great and he has no other objective other than seeing this dream come true, says Vice President Yemi Osinbajo, SAN.
"This morning, I had a meeting with the President and he repeated to me twice, he said 'at my age there is only one thing I am looking for, I want to see a great Nigeria'. He has no other objective and I feel very inspired by that," Prof Osinbajo stated.
The Vice President spoke while receiving a delegation of Christian Ministers Welfare Initiative also known as the Pastors' Forum, Taraba State, at the Presidential Villa, Abuja.
Prof. Osinbajo while restating the firm commitment of the President and himself to a great Nigeria where peace and justice reign said "it is madness for anybody in our position to be looking for money. According to him, God put people in a position of authority for them to be able to do something for their people.
"I think if any Nigerian gets the chance to be president of the country, there is nothing he/she is looking for anymore except that while there you improve the lot of the people," he added.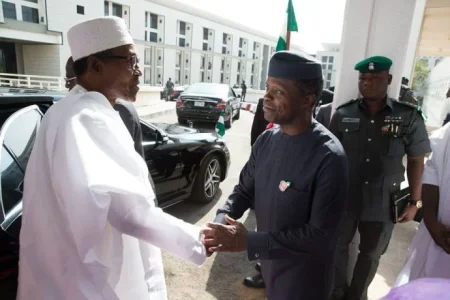 Linking the economic situation to corruption and official graft, the VP stated that "no economy can tolerate the level of corruption seen in Nigeria without the consequence, Nigerian lives were being lost and yet people cannot account for $15 billion meant for purchase of security equipment to fight the insurgents."
Besides, the Vice President also explained how the factor of vandalisation of oil installations is contributory to the recession.
He said Nigeria has lost several millions of barrels of crude oil due to the activities of the militants in the Niger Delta.
According to him, by early 2016 the country was producing 5,000MW of power for the first time, but by February 2016 the Focados terminal was destroyed by militants and 40 per cent of the gas used to fire the power plants were lost and the country was down to 2,500MW of power.
According to Prof. Osinbajo, at the time the militants started blowing up oil and gas installations, the amnesty stipend were still being paid, "nothing changed, the only reason is that we are investigating people who have stolen money.".
THINK YOUR FRIEND WOULD BE INTRESTED? SHARE THIS STORY USING ANY OF THE SHARE BUTTON BELOW ⬇
PLACE YOUR TEXT ADVERT BELOW:>>>>>>>>>>>>>>>>>>>>>>>>>>>>>>>>>>>>>>>>
SHARE YOUR STORY WITH US VIA EMAIL: INFO@247NIGERIANEWSUPDATE.CO RECEIVE NEWS VIA OUR WHATSAPP, KINDLY TEXT +234 701 056 0394 TO ADD YOU
CLICK HERE TO JOIN US ON OUR YOUTUBE CHANNEL FOR NEWS UPDATE
CLICK HERE TO JOIN US ON TWITTER FOR INSTANT NEWS UPDATE: @247NGNEWSUPDATE
CLICK HERE TO JOIN MILLIONS AROUND THE GLOBE TO READ NEWS ON OUR FACEBOOK FAN PAGE
FOR INSTANT UPDATES ON INSTAGRAM CLICK HERE
RECEIVE INSTANT NEWS UPDATE VIA OUR BBM BROADCAST: D3EDEFDF