Phillip Shaibu, the running mate of the governorship candidate of the All Progressives Congress, Godwin Obaseki created a scene at INEC, by protesting cancellation of results in some units
Godwin Obaseki, is now at the INEC office to protest the cancellation of results of some units in his ward in Jattu, Etsakor West Local Government Area.
The deputy governorship candidate who arrived the INEC office at about 8 a.m. was barred from entering into the office with the collation officer for Etsakor West.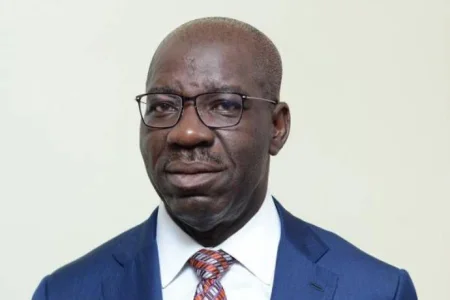 But Mr. Shaibu insisted he had a complaint to make against the collation officer whom he said had no right to cancel the units.
The argument degenerated into pushing as he forced his way through the security blockade.
He, however, managed to pull through into the hall.
THINK YOUR FRIEND WOULD BE INTRESTED? SHARE THIS STORY USING ANY OF THE SHARE BUTTON BELOW ⬇
PLACE YOUR TEXT ADVERT BELOW:>>>>>>>>>>>>>>>>>>>>>>>>>>>>>>>>>>>>>>>>
SHARE YOUR STORY WITH US VIA EMAIL: INFO@247NIGERIANEWSUPDATE.CO RECEIVE NEWS VIA OUR WHATSAPP, KINDLY TEXT +234 701 056 0394 TO ADD YOU
CLICK HERE TO JOIN US ON OUR YOUTUBE CHANNEL FOR NEWS UPDATE
CLICK HERE TO JOIN US ON TWITTER FOR INSTANT NEWS UPDATE: @247NGNEWSUPDATE
CLICK HERE TO JOIN MILLIONS AROUND THE GLOBE TO READ NEWS ON OUR FACEBOOK FAN PAGE
FOR INSTANT UPDATES ON INSTAGRAM CLICK HERE
RECEIVE INSTANT NEWS UPDATE VIA OUR BBM BROADCAST: D3EDEFDF