Nigeria is in the danger of starting its 2018 World Cup qualifying campaign on a bizarre note, after the Nigeria Football Federation (NFF), revealed it cannot afford the logistics to Zambia.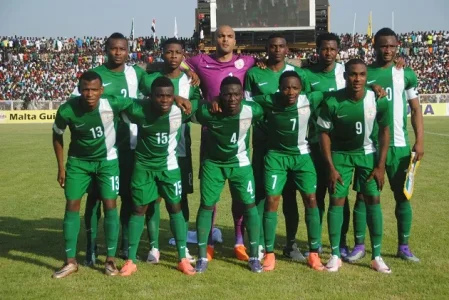 The Super Eagles are billed to take on the Chipolopolo in Ndola on October 9, in their first game of the series.
With Nigeria in the midst of a recession, the NFF is now looking for a sponsor to offset the $270,000 fee, to charter a plane to Ndola, Zambia for the match.
"As we speak, we don't have any kobo (a denomination of Nigeria's naira currency) in our purse," an unnamed member of the NFF told The Guardian.
"The charges for the Airline alone is $200,000 for a 140-seater plane, and it will be on ground with the team for two days.
"We need between $6,000 and $10,000 for flight ticket(s) to bring in the players (from Europe)."
The NFF member also said that the only way forward was if the Nigerian government could give them stronger support.
THINK YOUR FRIEND WOULD BE INTRESTED? SHARE THIS STORY USING ANY OF THE SHARE BUTTON BELOW ⬇
PLACE YOUR TEXT ADVERT BELOW:>>>>>>>>>>>>>>>>>>>>>>>>>>>>>>>>>>>>>>>>
SHARE YOUR STORY WITH US VIA EMAIL: INFO@247NIGERIANEWSUPDATE.CO RECEIVE NEWS VIA OUR WHATSAPP, KINDLY TEXT +234 701 056 0394 TO ADD YOU
CLICK HERE TO JOIN US ON OUR YOUTUBE CHANNEL FOR NEWS UPDATE
CLICK HERE TO JOIN US ON TWITTER FOR INSTANT NEWS UPDATE: @247NGNEWSUPDATE
CLICK HERE TO JOIN MILLIONS AROUND THE GLOBE TO READ NEWS ON OUR FACEBOOK FAN PAGE
FOR INSTANT UPDATES ON INSTAGRAM CLICK HERE
RECEIVE INSTANT NEWS UPDATE VIA OUR BBM BROADCAST: D3EDEFDF