A French court on Friday handed the son of Equatorial Guinea's president Teodoro Obiang Nguema Mbasogo, a suspended sentence of three years in prison after he was found guilty of embezzling millions in public money.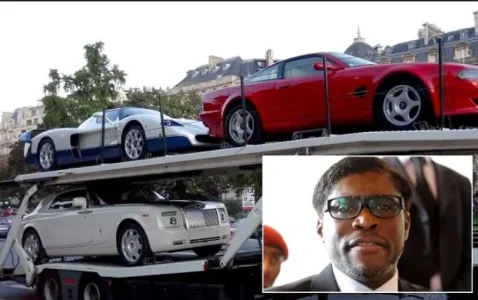 Teodoro Nguema Obiang Mangue, 48, who is the country's vice president, had been accused of spending millions of dollars allegedly linked to corruption, embezzlement, and extortion in his oil-rich African nation to fund his opulent lifestyle of fast cars, designer clothes, works of art and high-end real estate.
Obiang, who did not attend the trial was also handed a suspended fine of 30 million euros ($35 million), and ordered that all goods seized during the investigation should remain confiscated.
RECEIVE NEWS UPDATE ON: WHATSAPP +234 701 056 0394, AND TWITTER: @247NGNEWSUPDATE, EMAIL: INFO@247NIGERIANEWSUPDATE.CO
FOR INSTANT UPDATES ON INSTAGRAM CLICK HERE
Share your story with us: info@247nigerianewsupdate.co PLACE YOUR TEXT ADVERT BELOW:>>>>>>>>>>>>>>>>>>>>>>>>>>>>>>>>>>>>>>>>
Receive Instant News Update Via BBM: D3EDEFDF...Click HERE for Details.