The world's famous dance move known as Dab has landed a popular Saudi singer, TV host and actor in problem after he was caught dabbing during a concert.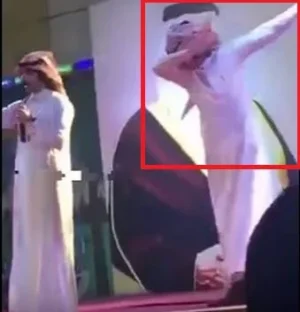 BBC reports that Abdallah Al Shahani was performing at a music festival in Taif, Saudi Arabia over the weekend when he pulled up the move on stage.
After video footage went viral, Al Shahani was reportedly arrested by authorities. Although, it's unknown if he has been charged with the offence.
The Saudi Interior Ministry's National Commission for Combating Drugs recently banned the dance move because they believe it references marijuana use.
Abdallah has since apologised for his actions, writing on Twitter: "I apologise to our respected government and to my audience for unintentionally and spontaneously making the dance move at Taif festival. Please accept my apology."
Dabbing, or the dab, is a simple dance move which was first popularized by hip-hop culture in America. The move involves a person dropping his head into the bent crook of a slanted arm, while raising the opposite arm in a parallel direction but out straight.
Receive Instant News Update Via BBM: D3EDEFDF...Click HERE for Details.
Share your story with us: info@247nigerianewsupdate.co PLACE YOUR TEXT ADVERT BELOW:>>>>>>>>>>>>>>>>>>>>>>>>>>>>>>>>>>>>>>>>
How I TOTALLY Got Rid Of my POT BELLY,excess Fat and Overweight In just 2weeks.. Click HERE for Details.
Warning To Men: This 3 Foods Is Killing Your Erection. Click Here To Know Them
For Instant Updates On Twitter Page @247NGNEWSUPDATE