Skywatchers are preparing for Monday night's 'supermoon' as Earth's satellite makes its closest approach since 1948.
The moon on Monday will appear both brighter and bigger, although the human eye is barely able to discern the difference.
At exactly 1352 GMT (2:52pm Nigerian Time) on Monday, the moon is set to become its fullest at the same time as it makes its closest pass to Earth, causing it to appear unusually large, according to astronomers.
The rare proximity of Monday's "spectacular supermoon" to Earth means it will appear 30-per-cent brighter and 14-per-cent bigger as it reaches just 356,509 kilometres from Earth, according to NASA.
Since the moon's orbit around Earth is elliptical, its distance to the planet varies between lunar cycles.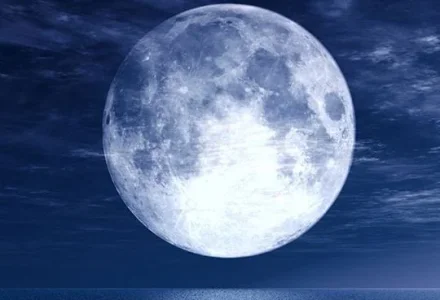 Stargazers are not set to witness another supermoon on this scale for another 18 years, when the moon nears Earth again in November 2034.
People looking to catch a glimpse of the supermoon in areas where clouds are forecast on Monday can still see an unusually large moon on Sunday, before it reaches its full brightness the next day, according to NASA.
The last time a full moon was this close to earth was in 1948, while in 1912 it was even larger, coming 134 kilometres closer to earth.
- DPA
THINK YOUR FRIEND WOULD BE INTRESTED? SHARE THIS STORY USING ANY OF THE SHARE BUTTON BELOW ⬇
PLACE YOUR TEXT ADVERT BELOW:>>>>>>>>>>>>>>>>>>>>>>>>>>>>>>>>>>>>>>>>
( FREE ) secret Fruits that Increased My Manhood size and Lasting Power in 7-days... CLICK HERE TO GET IT
Warning To Men: This 3 Foods Is Killing Your Erection. Click Here To Know Them
SHARE YOUR STORY WITH US VIA EMAIL: INFO@247NIGERIANEWSUPDATE.CO RECEIVE NEWS VIA OUR WHATSAPP, KINDLY TEXT +234 701 056 0394 TO ADD YOU
CLICK HERE TO JOIN US ON OUR YOUTUBE CHANNEL FOR NEWS UPDATE
CLICK HERE TO JOIN US ON TWITTER FOR INSTANT NEWS UPDATE: @247NGNEWSUPDATE
CLICK HERE TO JOIN MILLIONS AROUND THE GLOBE TO READ NEWS ON OUR FACEBOOK FAN PAGE
FOR INSTANT UPDATES ON INSTAGRAM CLICK HERE
RECEIVE INSTANT NEWS UPDATE VIA OUR BBM BROADCAST: D3EDEFDF