Governor Olusegun Mimiko of Ondo State on Monday finally sent congratulatory message to the Governor-Elect, Mr Oluwarotimi Akeredolu SAN.
Mimiko in a statement signed by his Chief Press Secretary, Eni Akinsola, said: "it behoves of him as the Governor of Ondo State to congratulate the Governor-elect, Mr. Rotimi Akeredolu, SAN, and wish him success in the challenging task of governing our dear State."
While promising to continue to provide leadership to the State till the takeover date, Mimiko expressed his appreciation to the people of the State.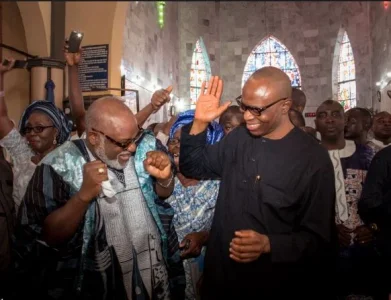 He said "I use this medium to express my sincere appreciation to all our citizens for the very peaceful manner in which they conducted themselves throughout the election period. I will not waiver in providing needed leadership to our dear State till the last day of my term."
He enjoined residents to strive to sustain the peace enjoyed in the State for the past seven years, promising to speak with them as occasion demands as his "eight year tenure inches to an end."
RECEIVE NEWS UPDATE ON: WHATSAPP +234 701 056 0394, AND TWITTER: @247NGNEWSUPDATE, EMAIL: INFO@247NIGERIANEWSUPDATE.CO
FOR INSTANT UPDATES ON INSTAGRAM CLICK HERE
Share your story with us: info@247nigerianewsupdate.co PLACE YOUR TEXT ADVERT BELOW:>>>>>>>>>>>>>>>>>>>>>>>>>>>>>>>>>>>>>>>>
Receive Instant News Update Via BBM: D3EDEFDF...Click HERE for Details.