Governor Olusegun Mimiko of Ondo State on Monday finally sent congratulatory message to the Governor-Elect, Mr Oluwarotimi Akeredolu SAN.
Mimiko in a statement signed by his Chief Press Secretary, Eni Akinsola, said: "it behoves of him as the Governor of Ondo State to congratulate the Governor-elect, Mr. Rotimi Akeredolu, SAN, and wish him success in the challenging task of governing our dear State."
While promising to continue to provide leadership to the State till the takeover date, Mimiko expressed his appreciation to the people of the State.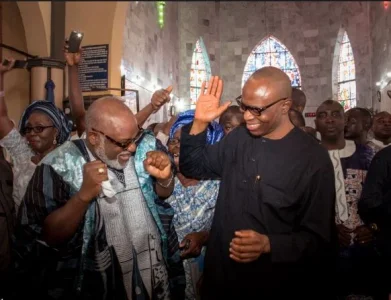 He said "I use this medium to express my sincere appreciation to all our citizens for the very peaceful manner in which they conducted themselves throughout the election period. I will not waiver in providing needed leadership to our dear State till the last day of my term."
He enjoined residents to strive to sustain the peace enjoyed in the State for the past seven years, promising to speak with them as occasion demands as his "eight year tenure inches to an end."
PLACE YOUR CONTENTS ADVERT BELOW:>>>>>>>>>>>>>>>>>>>>>>>>>>>>>>>>>>>>>>>>
Click Here To Download A Free Guide That Shows How To Make 100k Weekly Without Lifting Your Finger (Using An Autopilot System)
Click Here To Discover Why Experts Conclude This Money Making Secret Is 100% Legal, 446.67% Better and 217% Safer Than MMM.
THANK YOU FOR VISITING 247 NIGERIA NEWS UPDATE AND KINDLY VISIT US AGAIN! CLICK HERE TO JOIN OUR FACEBOOK FAN PAGE FOR NEWS UPDATES
For Instant Updates On Twitter Page @247NGNEWSUPDATE