The senate on Tuesday discussed motion seeking to remove age bracket specification for
recruitment and employment in Nigeria.
The motion is being sponsored by Senator Matthew Urhoghide.
According to the tweet, Senator Urhoghide says it is not the fault of applicants that they weren't employed earlier and should not suffer for it.
See tweets: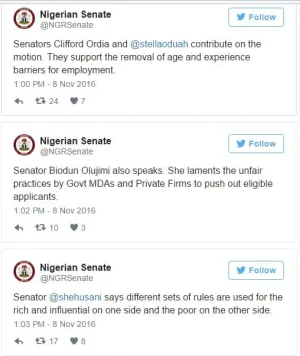 THINK YOUR FRIEND WOULD BE INTRESTED? SHARE THIS STORY USING ANY OF THE SHARE BUTTON BELOW ⬇
PLACE YOUR TEXT ADVERT BELOW:>>>>>>>>>>>>>>>>>>>>>>>>>>>>>>>>>>>>>>>>
SHARE YOUR STORY WITH US VIA EMAIL: INFO@247NIGERIANEWSUPDATE.CO RECEIVE NEWS VIA OUR WHATSAPP, KINDLY TEXT +234 701 056 0394 TO ADD YOU
CLICK HERE TO JOIN US ON OUR YOUTUBE CHANNEL FOR NEWS UPDATE
CLICK HERE TO JOIN US ON TWITTER FOR INSTANT NEWS UPDATE: @247NGNEWSUPDATE
CLICK HERE TO JOIN MILLIONS AROUND THE GLOBE TO READ NEWS ON OUR FACEBOOK FAN PAGE
FOR INSTANT UPDATES ON INSTAGRAM CLICK HERE
RECEIVE INSTANT NEWS UPDATE VIA OUR BBM BROADCAST: D3EDEFDF