Nigeria step up their bid for a successful title defence at the 2016 Africa Women's Cup of Nations when they face Kenya in their last group game.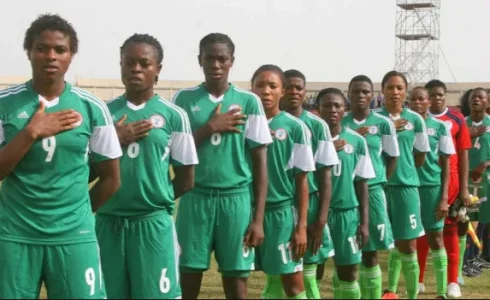 The Super Falcons were denied of an early ticket to the semi-final as they were held to a 1-1 draw by Ghana.
A win for Florence Omagbemi's ladies will see them finish as Group B winners, and that would see them avoid hosts, Cameroon in the last four.
Below is the match schedule:
Nigeria Women vs Kenya Women
Time: (7:00pm West African Time)
Date: Saturday, November 26
Venue: Stade Municipal de Limbe
City: Limbe
THINK YOUR FRIEND WOULD BE INTRESTED? SHARE THIS STORY USING ANY OF THE SHARE BUTTON BELOW ⬇
PLACE YOUR TEXT ADVERT BELOW:>>>>>>>>>>>>>>>>>>>>>>>>>>>>>>>>>>>>>>>>
( FREE ) secret Fruits that Increased My Manhood size and Lasting Power in 7-days... CLICK HERE TO GET IT
Warning To Men: This 3 Foods Is Killing Your Erection. Click Here To Know Them
SHARE YOUR STORY WITH US VIA EMAIL: INFO@247NIGERIANEWSUPDATE.CO RECEIVE NEWS VIA OUR WHATSAPP, KINDLY TEXT +234 701 056 0394 TO ADD YOU
CLICK HERE TO JOIN US ON OUR YOUTUBE CHANNEL FOR NEWS UPDATE
CLICK HERE TO JOIN US ON TWITTER FOR INSTANT NEWS UPDATE: @247NGNEWSUPDATE
CLICK HERE TO JOIN MILLIONS AROUND THE GLOBE TO READ NEWS ON OUR FACEBOOK FAN PAGE
FOR INSTANT UPDATES ON INSTAGRAM CLICK HERE
RECEIVE INSTANT NEWS UPDATE VIA OUR BBM BROADCAST: D3EDEFDF