Prof. Adebiyi Daramola, the embattled Vice Chancellor of the crisis-ridden Federal University of Technology Akure (FUTA), in Ondo State, was this morning arrested after he hit a member of staff of the institution with his car.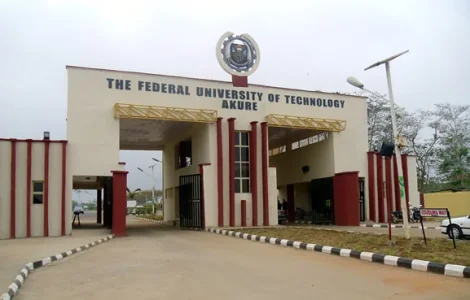 Abiodun Ademola Atunbi of the Non-Academic Staff Union (NASU) member of FUTA was allegedly crushed to the point of death, and was rushed to the hospital.
SaharaReporters reported that the incident happened on the main campus at Oba'nla in Akure at about 8:30a.m. as some members of staff of the institution were gathering at a meeting point for prayers.
It was gathered that police officers from the Okuta Elerinla Police Station arrested Prof. Daramola shortly after the incident.
Several aggrieved members of staff of the school converged at the Senate building following the incident.
Many of them trooped out to the street and made a bonfire as a sign of protest against the Vice-Chancellor's wickedness, described by one of them as a deliberate action taken out of anger to kill Mr. Atunbi, who was one of the activists agitating for his removal from office.
THINK YOUR FRIEND WOULD BE INTRESTED? SHARE THIS STORY USING ANY OF THE SHARE BUTTON BELOW ⬇
PLACE YOUR TEXT ADVERT BELOW:>>>>>>>>>>>>>>>>>>>>>>>>>>>>>>>>>>>>>>>>
SHARE YOUR STORY WITH US VIA EMAIL: INFO@247NIGERIANEWSUPDATE.CO RECEIVE NEWS VIA OUR WHATSAPP, KINDLY TEXT +234 701 056 0394 TO ADD YOU
CLICK HERE TO JOIN US ON OUR YOUTUBE CHANNEL FOR NEWS UPDATE
CLICK HERE TO JOIN US ON TWITTER FOR INSTANT NEWS UPDATE: @247NGNEWSUPDATE
CLICK HERE TO JOIN MILLIONS AROUND THE GLOBE TO READ NEWS ON OUR FACEBOOK FAN PAGE
FOR INSTANT UPDATES ON INSTAGRAM CLICK HERE
RECEIVE INSTANT NEWS UPDATE VIA OUR BBM BROADCAST: D3EDEFDF