Alleged plans to kidnap Alhaji Mamman Daura, President Muhammadu Buhari's nephew and one of the key members of the president's kitchen cabinet failed over the weekend.
A source closed to Omojuwa.com revealed that Nigeria's ex Foreign Affairs Minister, Ambassador Bagudu Hirse was mistakenly abducted by heavily armed gunmen who stormed Daura's Kaduna home to carry out the abduction.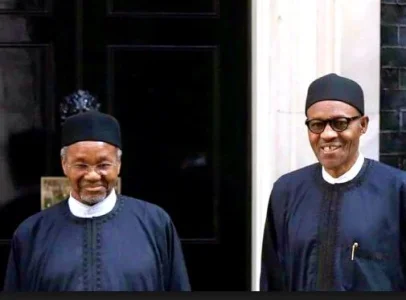 It was also learnt that some people were injured as the kidnappers shot sporadically.
The police say a team of detectives have been deployed across the state to ensure his safe and unconditional release of the former foreign minister.
THINK YOUR FRIEND WOULD BE INTRESTED? SHARE THIS STORY USING ANY OF THE SHARE BUTTON BELOW ⬇
PLACE YOUR TEXT ADVERT BELOW:>>>>>>>>>>>>>>>>>>>>>>>>>>>>>>>>>>>>>>>>
SHARE YOUR STORY WITH US VIA EMAIL: INFO@247NIGERIANEWSUPDATE.CO RECEIVE NEWS VIA OUR WHATSAPP, KINDLY TEXT +234 701 056 0394 TO ADD YOU
CLICK HERE TO JOIN US ON OUR YOUTUBE CHANNEL FOR NEWS UPDATE
CLICK HERE TO JOIN US ON TWITTER FOR INSTANT NEWS UPDATE: @247NGNEWSUPDATE
CLICK HERE TO JOIN MILLIONS AROUND THE GLOBE TO READ NEWS ON OUR FACEBOOK FAN PAGE
FOR INSTANT UPDATES ON INSTAGRAM CLICK HERE
RECEIVE INSTANT NEWS UPDATE VIA OUR BBM BROADCAST: D3EDEFDF