President Muhammadu Buhari on Monday told Governor Adams Oshiomhole, Governor-elect, Godwin Obaseki and others delegates in Benin City that he spent 40 months in detention in the state during the 1985 military coup.
President Buhari, who was on two days working visit to Edo state will used the opporutnity to launch projects completed by the Governor Adams Oshiomhole-led administration.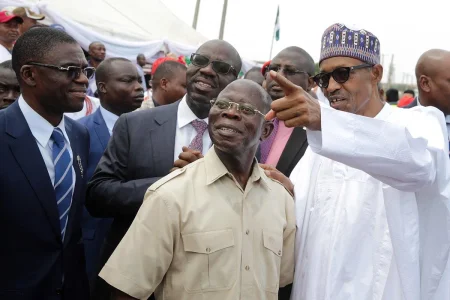 "I'm glad to be visiting Edo State, to commission Infrastructure projects completed by the administration of Gov Adams Oshiomhole".
"Not many people may remember: I spent most of the 40 months of my detention, following the 1985 coup, in a small bungalow here in Benin City", the president said.
PLACE YOUR CONTENTS ADVERT BELOW:>>>>>>>>>>>>>>>>>>>>>>>>>>>>>>>>>>>>>>>>
Click Here To Download A Free Guide That Shows How To Make 100k Weekly Without Lifting Your Finger (Using An Autopilot System)
Click Here To Discover Why Experts Conclude This Money Making Secret Is 100% Legal, 446.67% Better and 217% Safer Than MMM.
THANK YOU FOR VISITING 247 NIGERIA NEWS UPDATE AND KINDLY VISIT US AGAIN! CLICK HERE TO JOIN OUR FACEBOOK FAN PAGE FOR NEWS UPDATES
For Instant Updates On Twitter Page @247NGNEWSUPDATE