The Ekiti state House of Assembly has suspended former Chairman, House Committee on Information, Hon Gboyega Aribisogan, for 180 legislative sittings for working against the government of Ayodele Fayose.
He was also asked to submit all house documents in his possession to the Clerk of the house and should not be seen within the radius of one kilometre to the house.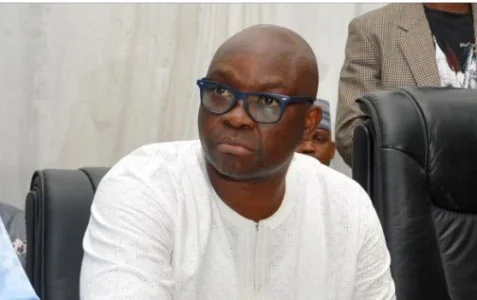 He was alleged of holding secret meetings with those considered as enemies of the government with a view to bringing the government of Governor Ayodele Fayose down.
PLACE YOUR CONTENTS ADVERT BELOW:>>>>>>>>>>>>>>>>>>>>>>>>>>>>>>>>>>>>>>>>
Click Here To Download A Free Guide That Shows How To Make 100k Weekly Without Lifting Your Finger (Using An Autopilot System)
Click Here To Discover Why Experts Conclude This Money Making Secret Is 100% Legal, 446.67% Better and 217% Safer Than MMM.
THANK YOU FOR VISITING 247 NIGERIA NEWS UPDATE AND KINDLY VISIT US AGAIN! CLICK HERE TO JOIN OUR FACEBOOK FAN PAGE FOR NEWS UPDATES
For Instant Updates On Twitter Page @247NGNEWSUPDATE