The Nigerian Senate on Wednesday remembered the killing of four young undergraduates of the University of Port Harcourt at the Aluu community, Rivers state.
Senator Melaye, represrnting Kogi west Senatorial district raised the point to his colleagues of the Aluu 4 and Justice For Bridget amongst other extra judicial killings in country.
The Aluu four
was a necklace lynching that involved four young men, Ugonna Obuzor, Toku Lloyd, Chiadika Biringa, and Tekena Elkanah, all students of the University of Port Harcourt.
They were all lynched after they were falsely accused of theft in Aluu, a community in Port Harcourt, Rivers State, Nigeria on 5 October 2012
Chiadika Biringa, Lloyd Toku Mike, Tekena Elkanah and Ugonna Obuzor were all friends, first sons of their parents, and students of University of Port Harcourt.
The four students were also occasional roommates. Ugbonna sometimes spent the night with
Tekena who lived outside the campus. He moved in because his residence on campus was broken into multiple times.
Ugbona and Tekena were coming back from outside the campus one night when they met their other friends, Chiadika and Lloyd. One of the four had a debtor living in the nearby village of Aluu so all four decided to meet the person together. In the cause of settling the debt, a misunderstanding ensued which turned sour and eventually turned into a fight.
The debtor started screaming, claiming that the men were there to steal laptops and mobile phones. The vigilante group was alerted with the impression that the students were the criminals disturbing the community. The four men were chased through the streets by the stick and stone-wielding vigilantes, stripped naked, beaten and tortured until they were almost unconscious. Afterwards, in the presence of a crowd, they were dragged through mud, had concrete slabs dropped on their heads and car tyres filled with petrol wrapped around their necks in order to burn them.
What Nigerians are saying: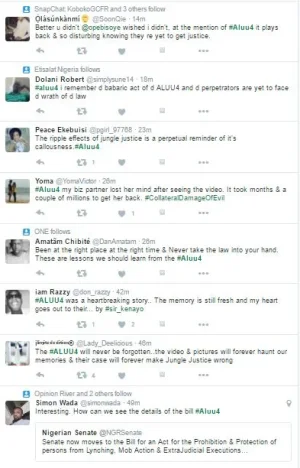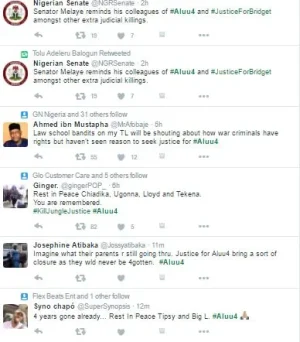 THINK YOUR FRIEND WOULD BE INTRESTED? SHARE THIS STORY USING ANY OF THE SHARE BUTTON BELOW ⬇
PLACE YOUR TEXT ADVERT BELOW:>>>>>>>>>>>>>>>>>>>>>>>>>>>>>>>>>>>>>>>>
( FREE ) secret Fruits that Increased My Manhood size and Lasting Power in 7-days... CLICK HERE TO GET IT
Warning To Men: This 3 Foods Is Killing Your Erection. Click Here To Know Them
SHARE YOUR STORY WITH US VIA EMAIL: INFO@247NIGERIANEWSUPDATE.CO RECEIVE NEWS VIA OUR WHATSAPP, KINDLY TEXT +234 701 056 0394 TO ADD YOU
CLICK HERE TO JOIN US ON OUR YOUTUBE CHANNEL FOR NEWS UPDATE
CLICK HERE TO JOIN US ON TWITTER FOR INSTANT NEWS UPDATE: @247NGNEWSUPDATE
CLICK HERE TO JOIN MILLIONS AROUND THE GLOBE TO READ NEWS ON OUR FACEBOOK FAN PAGE
FOR INSTANT UPDATES ON INSTAGRAM CLICK HERE
RECEIVE INSTANT NEWS UPDATE VIA OUR BBM BROADCAST: D3EDEFDF