President Muhammadu Buhari on Thursday evening met behind closed doors with the Speaker of the House of Representatives, Yakubu Dogara.
The meeting in the President's office in the State House lasted for about one hour.
At the end of the meeting, Dogara declined to speak to journalists on the purpose of his visit.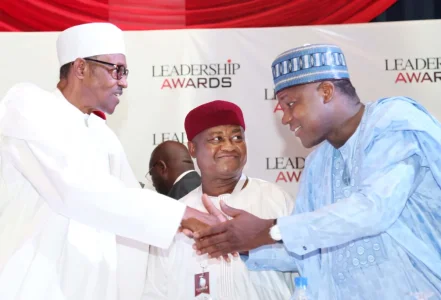 Dogara had also last week paid a visit to President Muhammadu Buhari in the company of former speaker of the House and current Governor of Sokoto State, Aminu Tambuwal.
Speaker Dogara was also among those who were honoured at the leadership awards alongside President Buhari same day.
PLACE YOUR CONTENTS ADVERT BELOW:>>>>>>>>>>>>>>>>>>>>>>>>>>>>>>>>>>>>>>>>
Click Here To Download A Free Guide That Shows How To Make 100k Weekly Without Lifting Your Finger (Using An Autopilot System)
Click Here To Discover Why Experts Conclude This Money Making Secret Is 100% Legal, 446.67% Better and 217% Safer Than MMM.
THANK YOU FOR VISITING 247 NIGERIA NEWS UPDATE AND KINDLY VISIT US AGAIN! CLICK HERE TO JOIN OUR FACEBOOK FAN PAGE FOR NEWS UPDATES
For Instant Updates On Twitter Page @247NGNEWSUPDATE