In what may be a soft and stylish jab on the President Muhammad Buhari's comment on Aisha Buhari belonging to the kitchen, Super Eagles captain, Mikel Obi has reacted to the trending saga.
Obi on his social media platform, dropped a photo of himself and his wife, with a message:
"Beside every great man is an even greater woman".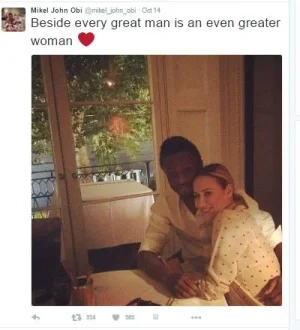 Recall that the common sense Senator also mocked President Muhammadu Buhari over "my wife belongs to the kitchen" comment by posting the picture of his wife saying:
"This is my beloved wife Evelyn. She belongs by my side because beside (not behind) great men are even greater women!"
.
The comment of Nigeria's President Muhammadu Buhari saying that his wife "belongs to my kitchen" has generated a lot of responses amid NigerianBulletin audience.
Meanwhile the Presidency claimed that President Muhammadu Buhari's statement on his wife, Aisha Buhari belonging in the kitchen was a joke.
THINK YOUR FRIEND WOULD BE INTRESTED? SHARE THIS STORY USING ANY OF THE SHARE BUTTON BELOW ⬇
PLACE YOUR TEXT ADVERT BELOW:>>>>>>>>>>>>>>>>>>>>>>>>>>>>>>>>>>>>>>>>
SHARE YOUR STORY WITH US VIA EMAIL: INFO@247NIGERIANEWSUPDATE.CO RECEIVE NEWS VIA OUR WHATSAPP, KINDLY TEXT +234 701 056 0394 TO ADD YOU
CLICK HERE TO JOIN US ON OUR YOUTUBE CHANNEL FOR NEWS UPDATE
CLICK HERE TO JOIN US ON TWITTER FOR INSTANT NEWS UPDATE: @247NGNEWSUPDATE
CLICK HERE TO JOIN MILLIONS AROUND THE GLOBE TO READ NEWS ON OUR FACEBOOK FAN PAGE
FOR INSTANT UPDATES ON INSTAGRAM CLICK HERE
RECEIVE INSTANT NEWS UPDATE VIA OUR BBM BROADCAST: D3EDEFDF