Senator Ben Murray-Bruce has mocked President Muhammadu Buhari over "my wife belongs to the kitchen" comment.
President Buhari while responding to Journalist in Germany over Aisha Buhari explosive interview with the BBC, said:
"I don't know which party my wife belongs to, but she belongs to my kitchen and my living room and the other room"
.
But the common sense Senator, Ben Bruce took the social media to post the picture of his wife saying:
"This is my beloved wife Evelyn. She belongs by my side because beside (not behind) great men are even greater women!"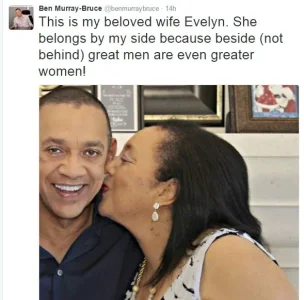 PLACE YOUR TEXT ADVERT BELOW:>>>>>>>>>>>>>>>>>>>>>>>>>>>>>>>>>>>>>>>>
How I TOTALLY Got Rid Of my POT BELLY,excess Fat and Overweight In just 2weeks.. Click HERE for Details.
For Instant Updates On Twitter Page @247NGNEWSUPDATE