Senator Ben Murray-Bruce has mocked President Muhammadu Buhari over "my wife belongs to the kitchen" comment.
President Buhari while responding to Journalist in Germany over Aisha Buhari explosive interview with the BBC, said:
"I don't know which party my wife belongs to, but she belongs to my kitchen and my living room and the other room"
.
But the common sense Senator, Ben Bruce took the social media to post the picture of his wife saying:
"This is my beloved wife Evelyn. She belongs by my side because beside (not behind) great men are even greater women!"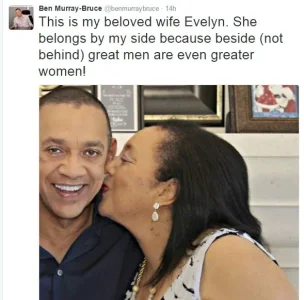 PLACE YOUR CONTENTS ADVERT BELOW:>>>>>>>>>>>>>>>>>>>>>>>>>>>>>>>>>>>>>>>>
Click Here To Download A Free Guide That Shows How To Make 100k Weekly Without Lifting Your Finger (Using An Autopilot System)
Click Here To Discover Why Experts Conclude This Money Making Secret Is 100% Legal, 446.67% Better and 217% Safer Than MMM.
THANK YOU FOR VISITING 247 NIGERIA NEWS UPDATE AND KINDLY VISIT US AGAIN! CLICK HERE TO JOIN OUR FACEBOOK FAN PAGE FOR NEWS UPDATES
For Instant Updates On Twitter Page @247NGNEWSUPDATE