A baby boy bearing two heads was been born in India, described as a 'miracle' by doctors, unfortunately, he died 32 hours later.
DailyMail reports that the baby boy was born on Monday morning local time to his 20-year-old mother at Jawaharlal Nehru Medical College, in Ajmer, Rajasthan, in northern India, and weighed about 2.5 kilograms (5lbs 7oz).
Dr Jaiprakash Narayan, an assistant professor of the paediatric medicine department, said everyone who heard about the miracle birth wanted to catch a glimpse of the remarkable baby.
'A baby boy with two heads was born yesterday in a healthy state,' he said.
'It was the couple's first child, which probably explains why they didn't see a doctor during the pregnancy and take extra precautions.
The baby was kept in the intensive care unit.
His mother and 24-year-old father however decided to leave and take their son home despite the risks and warnings from hospital staff.
The baby died 32 hours after his birth.
SEE PHOTOS: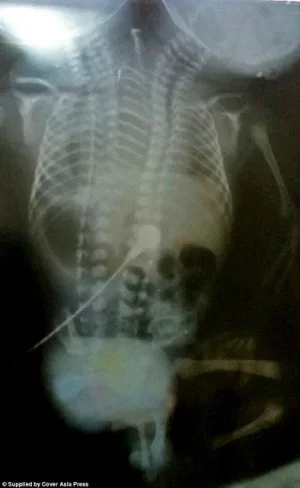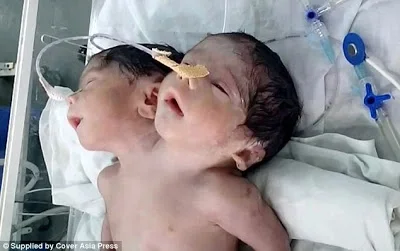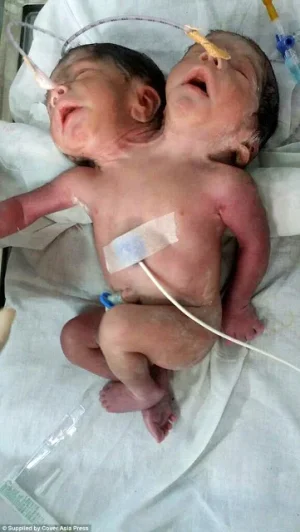 THINK YOUR FRIEND WOULD BE INTRESTED? SHARE THIS STORY USING ANY OF THE SHARE BUTTON BELOW ⬇
PLACE YOUR TEXT ADVERT BELOW:>>>>>>>>>>>>>>>>>>>>>>>>>>>>>>>>>>>>>>>>
( FREE ) secret Fruits that Increased My Manhood size and Lasting Power in 7-days... CLICK HERE TO GET IT
Warning To Men: This 3 Foods Is Killing Your Erection. Click Here To Know Them
SHARE YOUR STORY WITH US VIA EMAIL: INFO@247NIGERIANEWSUPDATE.CO RECEIVE NEWS VIA OUR WHATSAPP, KINDLY TEXT +234 701 056 0394 TO ADD YOU
CLICK HERE TO JOIN US ON OUR YOUTUBE CHANNEL FOR NEWS UPDATE
CLICK HERE TO JOIN US ON TWITTER FOR INSTANT NEWS UPDATE: @247NGNEWSUPDATE
CLICK HERE TO JOIN MILLIONS AROUND THE GLOBE TO READ NEWS ON OUR FACEBOOK FAN PAGE
FOR INSTANT UPDATES ON INSTAGRAM CLICK HERE
RECEIVE INSTANT NEWS UPDATE VIA OUR BBM BROADCAST: D3EDEFDF