The Chief Justice of Nigeria, Justice Mahmud Muhammed, has formally written to President Muhammadu Buhari on the decision of the National Judicial Commission on the cases of misconduct established against some judges.
A top source in the Presidency told PUNCH on condition of anonymity on Tuesday that Buhari received the communication on Monday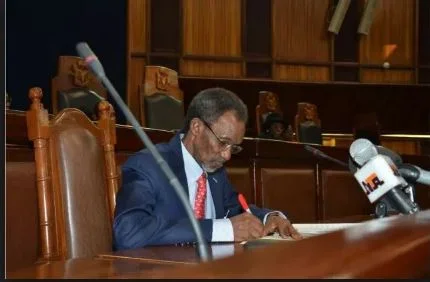 The source added, "As a matter of fact, two issues were included in the communication. The first was the issue of the judge, who was said to have collected a N200m bribe.
"The other was a comprehensive report of the National Judicial Council on some judges that were sanctioned for misconduct.
The source suspected that since the letter was received on Monday, it could have been prepared before the weekend incident.
THINK YOUR FRIEND WOULD BE INTRESTED? SHARE THIS STORY USING ANY OF THE SHARE BUTTON BELOW ⬇
PLACE YOUR TEXT ADVERT BELOW:>>>>>>>>>>>>>>>>>>>>>>>>>>>>>>>>>>>>>>>>
( FREE ) secret Fruits that Increased My Manhood size and Lasting Power in 7-days... CLICK HERE TO GET IT
SHARE YOUR STORY WITH US VIA EMAIL: INFO@247NIGERIANEWSUPDATE.CO RECEIVE NEWS VIA OUR WHATSAPP, KINDLY TEXT +234 701 056 0394 TO ADD YOU
CLICK HERE TO JOIN US ON OUR YOUTUBE CHANNEL FOR NEWS UPDATE
CLICK HERE TO JOIN US ON TWITTER FOR INSTANT NEWS UPDATE: @247NGNEWSUPDATE
CLICK HERE TO JOIN MILLIONS AROUND THE GLOBE TO READ NEWS ON OUR FACEBOOK FAN PAGE
FOR INSTANT UPDATES ON INSTAGRAM CLICK HERE
RECEIVE INSTANT NEWS UPDATE VIA OUR BBM BROADCAST: D3EDEFDF