Kelechi Iheanacho of Manchester City and Alex Iwobi of Arsenal are among the Premier League nominees for the 2016 UEFA Golden Boy award.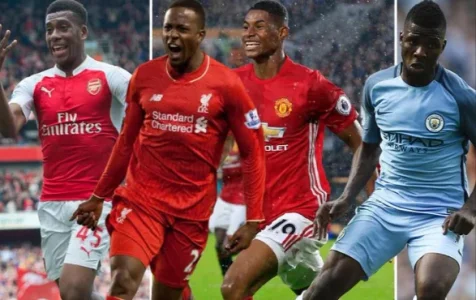 The pair have been nominated alongside six others for the prestigious award.
Full list below:
Marcus Rashford – Manchester United
Alex Iwobi – Arsenal
Kelechi Iheanacho – Manchester City
Dele Alli – Tottenham Hotspur
Leroy Sane – Manchester City
Ruben Loftus-Cheek – Chelsea
Andreas Christensen – Chelsea
Nathan – Chelsea
Demerai Gray – Leicester City
Marko Grujic – Liverpool
Manchester United have had three previous winners of the award with Wayne Rooney (2004), Anderson (2008) and Martial (2015) claiming the prize, while Cesc Fabregas won in 2006.
Nominees for the award must be born after January 1st 1996 and play for a European club. 40 players have been nominated for the 2016 edition.
THINK YOUR FRIEND WOULD BE INTRESTED? SHARE THIS STORY USING ANY OF THE SHARE BUTTON BELOW ⬇
PLACE YOUR TEXT ADVERT BELOW:>>>>>>>>>>>>>>>>>>>>>>>>>>>>>>>>>>>>>>>>
( FREE ) secret Fruits that Increased My Manhood size and Lasting Power in 7-days... CLICK HERE TO GET IT
Warning To Men: This 3 Foods Is Killing Your Erection. Click Here To Know Them
SHARE YOUR STORY WITH US VIA EMAIL: INFO@247NIGERIANEWSUPDATE.CO RECEIVE NEWS VIA OUR WHATSAPP, KINDLY TEXT +234 701 056 0394 TO ADD YOU
CLICK HERE TO JOIN US ON OUR YOUTUBE CHANNEL FOR NEWS UPDATE
CLICK HERE TO JOIN US ON TWITTER FOR INSTANT NEWS UPDATE: @247NGNEWSUPDATE
CLICK HERE TO JOIN MILLIONS AROUND THE GLOBE TO READ NEWS ON OUR FACEBOOK FAN PAGE
FOR INSTANT UPDATES ON INSTAGRAM CLICK HERE
RECEIVE INSTANT NEWS UPDATE VIA OUR BBM BROADCAST: D3EDEFDF