British Airways is scrapping free meals for short-haul economy fares from next year and inviting passengers to instead pay for Marks and Spencer sandwiches
The pair announced the tie-up on Thursday, which sees BA joining the no-frills airline model of charging passengers for food and drink, creating a stir on social media.
From January, BA will charge £4.75 ($6.2, 5.5 euros) for a tomato and mozzarella focaccia, £1 for hand cooked crisps and a minimum of £4 for alcoholic drinks. No food item will cost more than £5.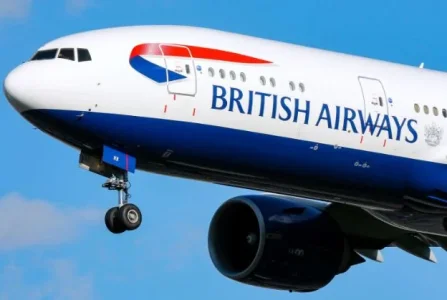 Bristish Airways said the move "follows extensive customer research and feedback, which highlighted dissatisfaction with the airline's current short-haul economy catering".
BA chairman and CEO Alex Cruz described the tie-up with Marks as "an ideal partnership, providing customers with a choice of products they recognise and value".
THINK YOUR FRIEND WOULD BE INTRESTED? SHARE THIS STORY USING ANY OF THE SHARE BUTTON BELOW ⬇
PLACE YOUR TEXT ADVERT BELOW:>>>>>>>>>>>>>>>>>>>>>>>>>>>>>>>>>>>>>>>>
( FREE ) secret Fruits that Increased My Manhood size and Lasting Power in 7-days... CLICK HERE TO GET IT
Warning To Men: This 3 Foods Is Killing Your Erection. Click Here To Know Them
SHARE YOUR STORY WITH US VIA EMAIL: INFO@247NIGERIANEWSUPDATE.CO RECEIVE NEWS VIA OUR WHATSAPP, KINDLY TEXT +234 701 056 0394 TO ADD YOU
CLICK HERE TO JOIN US ON OUR YOUTUBE CHANNEL FOR NEWS UPDATE
CLICK HERE TO JOIN US ON TWITTER FOR INSTANT NEWS UPDATE: @247NGNEWSUPDATE
CLICK HERE TO JOIN MILLIONS AROUND THE GLOBE TO READ NEWS ON OUR FACEBOOK FAN PAGE
FOR INSTANT UPDATES ON INSTAGRAM CLICK HERE
RECEIVE INSTANT NEWS UPDATE VIA OUR BBM BROADCAST: D3EDEFDF