British Airways is scrapping free meals for short-haul economy fares from next year and inviting passengers to instead pay for Marks and Spencer sandwiches
The pair announced the tie-up on Thursday, which sees BA joining the no-frills airline model of charging passengers for food and drink, creating a stir on social media.
From January, BA will charge £4.75 ($6.2, 5.5 euros) for a tomato and mozzarella focaccia, £1 for hand cooked crisps and a minimum of £4 for alcoholic drinks. No food item will cost more than £5.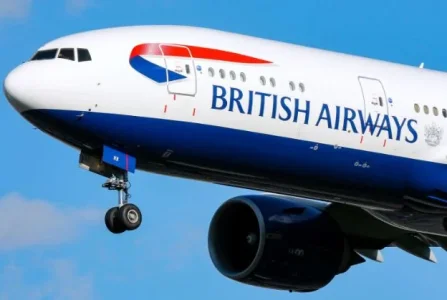 Bristish Airways said the move "follows extensive customer research and feedback, which highlighted dissatisfaction with the airline's current short-haul economy catering".
BA chairman and CEO Alex Cruz described the tie-up with Marks as "an ideal partnership, providing customers with a choice of products they recognise and value".
RECEIVE NEWS UPDATE ON: WHATSAPP +234 701 056 0394, AND TWITTER: @247NGNEWSUPDATE, EMAIL: INFO@247NIGERIANEWSUPDATE.CO
FOR INSTANT UPDATES ON INSTAGRAM CLICK HERE
Share your story with us: info@247nigerianewsupdate.co PLACE YOUR TEXT ADVERT BELOW:>>>>>>>>>>>>>>>>>>>>>>>>>>>>>>>>>>>>>>>>
Receive Instant News Update Via BBM: D3EDEFDF...Click HERE for Details.